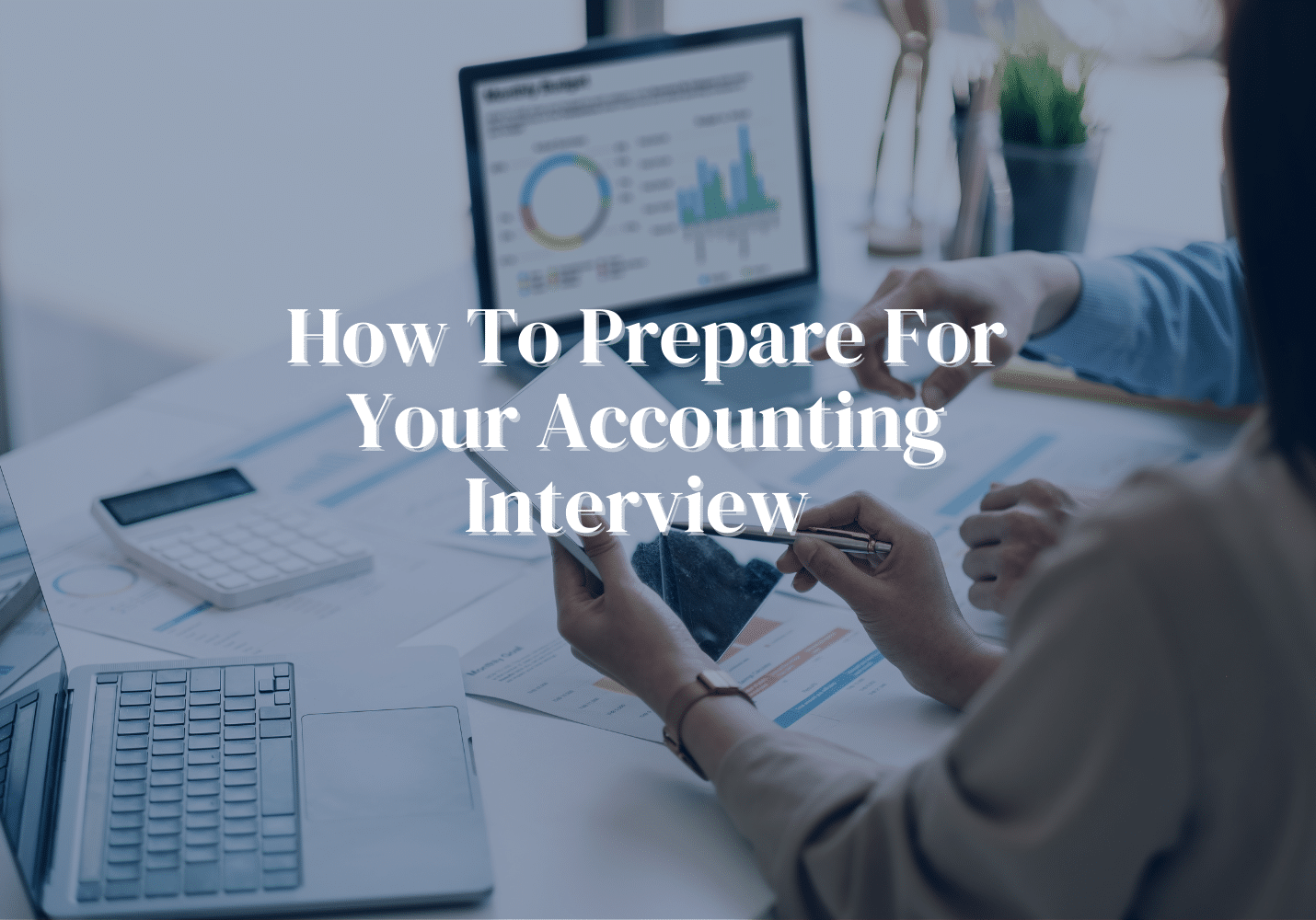 How to Prepare for an Accounting Interview
How to Prepare for an Accounting Interview
According to the U.S. Bureau of Labor Statistics employment of accountants and auditors is projected to grow 6 percent from 2021 to 2031, with about 136,400 openings for accountants and auditors projected each year, on average, over the decade. Whether you are looking for your first job in accounting or seeking a new position in accounting, there are sure to be plenty of opportunities in this field.
After finding and applying for an accounting job, you may be asked to do an interview. This could be in person or over a video call. But no matter the venue, it's critical to prepare ahead of your interview to leave a positive, lasting impression on those who could be your future teammates. Here's our expert guide on how to nail your accounting job interview.
1. Research the Field and Company
Even though you are most likely very familiar with the accounting field, now is a good time to brush up on the latest industry trends and happenings. This will show that you're engaged in the industry and interested in continuing to learn more about accounting.
While you're researching, be sure to look into the company itself. Learn a little about its history and the company culture. As you do this research, think about how you could fit in with this company. This will also help to inform your reasons for wanting this particular job, which is something you are sure to be asked! Take the time to read through the company's website and check out any social media presence the company has. Conduct a search to see if there are any recent news items about the company you should be aware of before your interview. If you have the names of the people you will be interviewing with, you can even look them up on LinkedIn to learn a little more about them, too.
Be sure to read the job description thoroughly and make sure you understand what you would be doing in this role. You should also be prepared to talk about how your skillset lines up with this role within the company.
2. Make a Good First Impression
Whether your interview is in-person or via video call, this is your opportunity to make a positive impression. You'll want to arrive or log-on to the call platform early. If you are driving to the interview, give yourself plenty of time to get there.
Virtual interviews are more common today. For a virtual interview, make sure you can access the online platform and are familiar with how it works. Do a quick tech check before the interview so if you have issues accessing the platform you can work through them or reach out to your contact at the company for assistance. Also, be sure to check your background for the video call and ensure that you have a quiet place for your interview.
Dressing professionally is also important no matter if your interview is in-person or via video call. Even if the company has a casual dress code, it's still a good idea to dress a bit nicer than you usually might if working there.
During the interview be sure to speak clearly, take the time to gather your thoughts before answering, and be positive about your experiences. Negativity, whether about a past employer or situation, doesn't reflect well so do your best to be measured when talking about difficult situations. The interview is the time to let your best self shine and really show why you would excel at this position and in this company.
If you're taking part in a video interview, keep your eyes on the camera. Don't look at your phone, close other browser windows and, if the platform allows, close the self viewing window in the video so you aren't distracted.
3. Use the STAR Response Method
As you begin to prepare and practice for your upcoming interview, you should think about how to organize your responses. One common response method is the STAR method. STAR stands for situation, task, action and result.
By starting with "situation," you will be able to set the stage for the interviewers so they understand what you are describing. When you get to "task," you will explain what was being asked of you. Perhaps there was a challenge you and your team had to overcome. In "action," you have the opportunity to talk about what you did to solve the challenge. And finally, with "result," you share the outcome.
Each of these doesn't have to be a long, drawn out explanation. In fact, the more concise you can be, the better. Practicing your responses gives you an opportunity to think about those situations that you can share. You want to use examples that showcase your abilities and skills. If the position you are interviewing for emphasizes teamwork, find stories from your experience that highlight how you work well with others.
4. Prepare Questions to Ask the Interviewer
An interview is a two-way conversation. Remember, you are also interviewing the company to make sure you feel you would be a good fit there. With this in mind, think about questions you have for people who work at this company.
This is a good chance to learn more about the hiring process — ask about next steps in the process or how long they anticipate the process taking. The company's onboarding process is also a good topic to learn more about while you are meeting with interviewers. You can also ask them more detailed questions about the position, like what a typical day at the company looks like or how many team members you would be working with.
Make sure your questions are conversation starters and not answered by a simple "yes" or "no." Also, put some time into these questions, so you aren't asking something that could be answered by reading the website (which you should have already done) or studying the job description (which you should also be familiar with).
5. The Most Common Accounting Interview Questions
Practicing interview questions is a must. This will help you communicate your skills succinctly through the examples of your past work that you choose to share. Being prepared to answer and familiar with some common accounting interview questions can help you feel more confident during the interview.
Here's a look at the some of the more common accounting interview questions:
Why do you want to do accountancy?
Are you able to convey technical information to someone with more or less technical ability? Please give an example.
What are your strengths and weaknesses?
Can you give examples of when you helped a team be successful?
Why do you want to work for this firm?
Tell me about a time when you had to meet a tight deadline. What steps did you take?
Describe a time when you had to work with another team member. What was your role and why?
Tell me about a time an error you made was discovered. What actions did you take?
Describe your most difficult client.
Tell me about a time an unexpected problem came up during an important project. How did you respond?
Describe the steps you have taken to make sure that a report is completed with attention to detail.
Describe a time you had to ask for help on a project. What steps did you take?
How would you manage multiple projects that are due at the same time?
Tell me about a time you had to lead an accounting project.
Describe a time you felt really stressed about work and what you did to overcome it.
What software have you worked with over the last five years, and what is your proficiency level?
Do you use Excel on a daily basis? What functions do you feel you are proficient in?
Describe your involvement in the month-end close process in your current position?
Are you a subject matter expert in any portion of your job?
As you work through how you will answer these questions, be mindful not to memorize your response word-for-word, but instead have a few examples top of mind before you start your interview.
The field of accounting is growing and has opportunities for people to grow within it. Like many jobs, there is responsibility that comes with a position in accounting but also a lot of satisfaction in a job well done. If you are looking for a new job in accounting, an interview, whether in-person or virtual, is your opportunity to connect with potential future coworkers and share why you're a good fit for the position and company. Getting an interview is an exciting step forward and one you need to take full advantage of. Before your interview, setting aside the time to do some preparation can go a long way to letting your best self shine so you can show your potential new teammates why you're a great fit for the position.