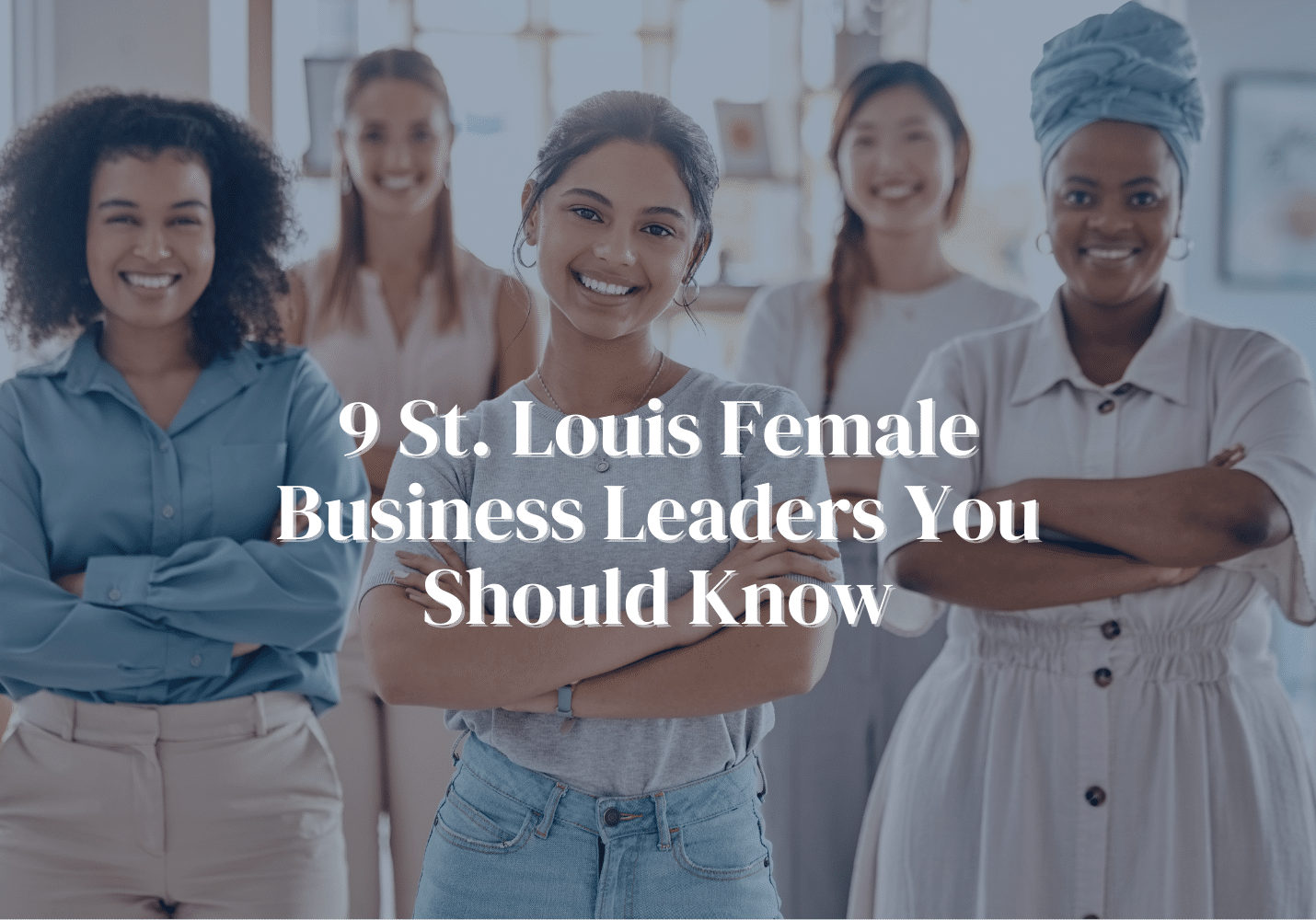 St. Louis Businesswomen Live & Leave a Legacy
St. Louis Businesswomen Live & Leave a Legacy
Since the days of the bustling river trade, St. Louis has been known as a place of opportunity for businesses of all types. But St. Louis is much more than its rich history. With world-class venues, nationally renowned sports teams, and affordable real estate options all in a central location, it's no wonder this region houses 14 Fortune 1000 companies. 
But just like the Mississippi river has shaped the St. Louis business scene, so have the women throughout St. Louis history who have started and led businesses over the years. To this day, St. Louis women honor this legacy by leading and making these businesses and St. Louis a global success.
THE HISTORY OF ST. LOUIS WOMEN IN BUSINESS
Madam C.J. Walker is one businesswoman many people are familiar with as one of the first African American women entrepreneurs. Walker also has ties to St. Louis. Her time in St. Louis actually caused her to cross paths with and even work for another African American St. Louis businesswoman working to make a name for herself in the haircare and beauty arena — Annie Turnbo Malone.
Malone moved to St. Louis in 1902, where she copyrighted her Poro brand beauty products. She eventually opened a beauty college, which is where she and Walker connected. It's estimated that this college graduated 75,000 agents who promoted the Poro products, system, and brand. Malone was known as a brilliant marketer who used branding to advance her products. In addition to being the first Black woman millionaire in the U.S., Malone was a philanthropist serving on the board of a St. Louis orphanage and provided generous monetary support to the organization. This orphanage was renamed in her honor and now serves the St. Louis region as Annie Malone Children and Family Services.
These are just two stories of women throughout St. Louis history who made names for themselves in business. This legacy is one carried on by many St. Louis women today in businesses that are located here in St. Louis but have a broader reach throughout the region, country, and world.
ST. LOUIS WOMEN: LOCAL BUSINESSES, GLOBAL REACH
From animal care and preservation to engineering, St. Louis women continue to shape and lead area businesses and organizations. 
Providing financial planning services for eight million clients, St. Louis-based, financial services company Edward Jones has been led by its managing partners including Penny Pennington. Having worked at Edward Jones since 2000, Penny has held various leadership roles in the company and was named No. 43 on Fortune's Most Powerful Women list. 
Enterprise Holdings is another large company that calls St. Louis home. Focused on transportation such as car rentals and fleet management, Enterprise Holdings manages brands such as Enterprise, Alamo and National. As President and CEO, Chrissy Taylor is the third generation of Taylors to lead Enterprise Holdings. She has received recognition from several leading travel publications and organizations and is also part owner of St. Louis City SC, the first majority female-owned Major League Soccer Club.
Serving others is a common theme among women business leaders in St. Louis. Operation Food Search, a nonprofit focused on ending hunger in the greater St. Louis metropolitan area, is headed up by CEO and President Kristen Wild. Kristen was a key part of the St. Louis regional response task force established during the COVID-19 pandemic. As she has built up Operation Food Search with new staff and board members, she has also added new partnerships to help increase the reach and impact of the organization. Under Kristen's leadership, Operation Food Search became a United Way organization for the first time in 2020.
The APA Adoption Center's CEO, Sarah Javier, leads the organization in finding homes for area animals and supporting pet owners with resources. Sarah carries a legacy as a woman leading this organization that cares for animals, as the APA traces its roots back to the woman-founded Humane Society of St. Louis County.
Also in the animal arena, the world-renowned St. Louis Zoo has Cassandra Brown Ray as Chief Financial Officer. Ray, who has worked in the St. Louis Zoo's accounting and finance department since 1992, works to continue the zoo's work in animal conservation and has been involved in planning for the new Conservation and Animal Science Center in North St. Louis County. In addition, Ray oversees the zoo's diversity and inclusion work and is passionate about gender equality.
Not only are women building up the future for other women leaders, but they're literally building up the community by leading engineering firms. For example, two local firms have women at the helm. Kaskaskia Engineering Group, a civil engineering firm, is led by the firm's founder and manager, Geri Boyer. A local urban development firm is led by Yaphett El-Amin, who is the president of Efficacy Consulting and Development.
Time and time again, St. Louis has proven to be an incubator for businesses and supporters of women leaders. These St. Louis businesses and organizations are part of a long legacy of successful women leading successful companies, a legacy these women are helping to continue.