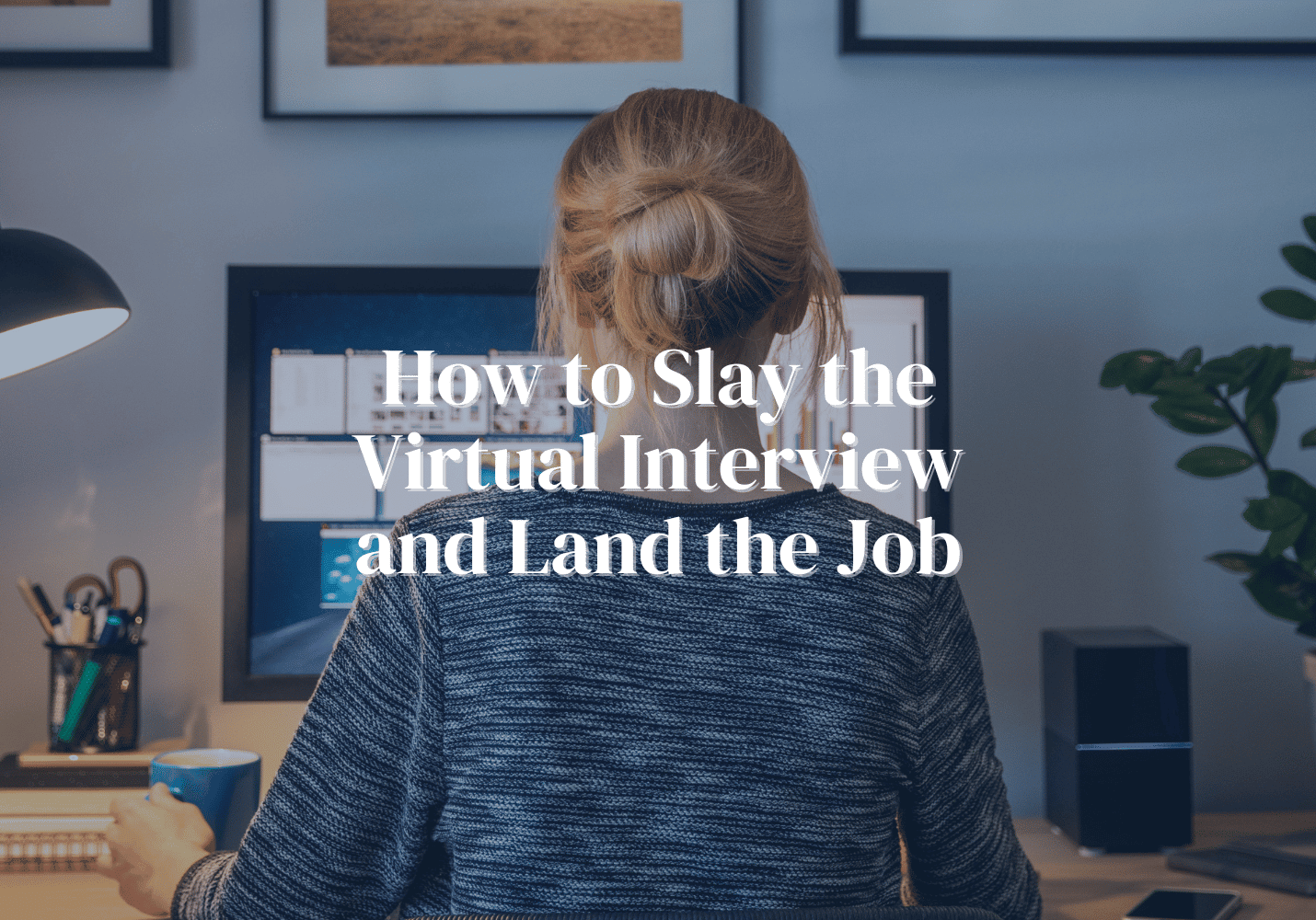 20 Tips to Prepare for a Virtual Interview
20 Tips to Prepare for a Virtual Interview
You've landed an interview for a great job. Congratulations! But the interview is virtual. You don't want to mess this up, but you have no idea how to prepare. Never fear; we've got your back.
In this Article
10 Ways to Prep Before a Virtual Interview
10 Tips for Success on the Day of Your Virtual Interview
VIRTUAL INTERVIEWS ARE THE NEW NORMAL
The online interview is one relic of COVID-19 that's here to stay. In a recent poll, Indeed found that 93 percent of companies that adopted virtual interviews during the pandemic plan to keep using them.
An interview from the comfort of your home might feel more casual than traveling to an office. But keep in mind one of the reasons employers like conducting interviews virtually is that they can talk to more people, from more places. You may need to stand out among some fierce competition. It's important to be just as prepared for your virtual interview as if you were meeting the interviewer in person.
To figure out what makes a positive or negative impression online, Harvard Business Review studied video recordings of more than 500 virtual interviews. The candidates who did not get the job seemed the least prepared – appearing distracted, scripted, or disengaged.
But that's not you. You're here to plan ahead and we're here to help. Here are some dos and don'ts to help you crush that interview.
HOW TO PREPARE FOR A VIRTUAL INTERVIEW
10 WAYS TO PREP BEFORE INTERVIEW DAY
1. If you know the interviewer's name, do a little digging on Google and LinkedIn. Make note of their professional accomplishments like publishing an article or speaking at a conference. See if you share an alma mater or a volunteer interest. Now, there's no need to dive too deep and end up in stalker territory – just look for a point of pride you could ask about to help build rapport. Engaging the interviewer in a conversation makes you more likable and memorable than delivering answers as a monologue.
2. Think about how you will answer common interview questions like, "Why do you want to work here?" or "Tell me how you overcame a challenge." Practice your answers on a friend until you're comfortable answering without a lot of "ums" or other filler words. While you want to be prepared, don't try to memorize your responses word for word or you'll risk sounding robotic. Instead, focus on conveying the information that makes your point as clearly as you can. Practice answering questions completely but without rambling or going off on tangents.
3. Print a copy of your resume and keep it handy. You can reference it to remember the points that landed you the interview in the first place. Highlight important metrics that show off your past successes and relevant experience that could help you excel in this new role.
4. Read over the job description multiple times. It paints a picture of the person the employer has already decided would be perfect for this position. Highlight the job requirements you can relate to your own experience so you can talk about how your background has prepared you for this job. When practicing interview questions, look to the job description for clues to what qualities the interviewer may ask about.
5. One advantage of virtual interviews is the ability to keep notes handy. Jot down anything you want to be sure to mention and keep the notes next to your computer. These notes can be a great lifeline if you get nervous and need a reminder of something you wanted to mention. Then again, don't go overboard – keep notes to one page or a few notecards. Make three or four bold headings with a few points under each. This way you can easily glance at your notes and remember the points you want to make without shuffling through a stack of papers.
6. Research the company online, but don't stop at its website. Social media profiles can often give you a good sense of its culture, its values, and what it might be like to work there.
7. Think of questions for your interviewer. A few ideas of things you can ask:
Questions about the role, like, "How is success for this role measured?" or "What does a typical day look like?"
Questions about the culture, such as, "How does the team collaborate?"
Questions about the environment or tools, like, "What software do you use?"
Questions about the interview process, like, "What are the next steps?"
If there are certain work environment or corporate culture elements that are deal breakers for you, ask your interviewer about them. Remember, an interview goes both ways. It's not just about the company finding a good fit for the role; it's about you finding a job that fits your life.
8. Be aware of any time zone differences between you and the interviewer. There's nothing worse than logging in to your 10 a.m. interview from the West Coast only to realize the interview was scheduled in East Coast time and you are three hours late to the party.
9. Make sure your tech is ready for interview day. Here are some things to check in advance:
Download the video platform the interview will be conducted on, such as Zoom, GoTo Meeting, or Teams. Make practice calls to friends or family so you get comfortable using it.
If you're using a personal Skype or Google account, make sure your username is professional (or at the very least, neutral) and your privacy settings are up to date. Upload your headshot as your profile avatar to bring things to the next level.
Earbuds can reduce noise pollution for both you and the interviewer. Do a video call with a friend before interview day to test your earbuds, camera, and microphone. (And don't forget to charge your buds before the big day!)
Almost 90 percent of recruiters told Harvard Business Review Internet lag was their top pet peeve in virtual interviews. Before interview day, do a Google search for "internet speed test" to check your upload speed. Ask people who live with you to log out of the WiFi during your call so you have maximum bandwidth available.
Don't let technical difficulties derail the interview. Before interview day, ask for a phone number where you can reach the interviewer if your tech disconnects.
10. Choose a location that makes you look your best. Make sure the background behind you is clean, neutral, and uncluttered. Position yourself so you're lit from the front. If there's a light source behind you, all the interviewer will see is a shadowy silhouette. If you're using a desk light, position it toward your face. Use a bulb that emits cool light, which is brighter than warm light. If you're struggling to find good lighting in your home, you might consider investing in an inexpensive ring light that plugs into your computer's USB port. If you don't have a computer at home, that's okay too! Most platforms used for video interviews are also available as an app that you can download on your smartphone. If this is the case, you will want to invest in a tripod for your phone to ensure a steady video and to avoid additional distractions.
Once interview day arrives, take some time to make sure everything is set to run smoothly.
10 TIPS FOR SUCCESS ON THE DAY OF YOUR VIRTUAL INTERVIEW
1. Set your environment. Make sure your on-camera space is clean and well-lit. Have your resume, one page of notes, some water, and a pen and paper within reach. Position your webcam so your head and shoulders dominate the screen and the camera is roughly eye-level. Avoid looking down into the camera – it's an angle that's unflattering on virtually everyone. You can elevate your laptop or monitor with camera by setting it on a stand or a small stack of books.
2. Prevent interruptions and distractions.
Tell anyone who lives with you or who may stop by that you're on a call and you can't be disturbed.
Secure pets in another room with something to keep them quiet.
Set your phone to silent. You may want to leave it in another room entirely to avoid distraction.
Close windows to reduce the impact of outside noise like sirens or lawnmowers.
3. Dress for success. Yes, you could wear the "Zoom uniform" of a suit on top and pajama pants on bottom. But dressing the same way you would for an in-person interview puts you in the professional frame of mind you need to make a good impression. (Plus, you never know when you might unexpectedly need to stand to close a door or adjust the camera. Then those PJ pants are on display – yikes!). Look at the company's website and social media accounts to get an idea of the dress code. If you're not sure, it's better to be a little overdressed than underdressed. You do have to consider a few things when choosing an outfit for a virtual interview that you don't have to think about for in-person meetings. To look your best on screen, opt for solid colors over busy patterns and neutral tones over bright hues. If you wear glasses, position your light so it's not reflecting off your lenses.
4. Make one last check of your Internet connection, camera, and microphone. Make sure all your software and drivers are up-to-date so your computer doesn't try to update during the call.
5. Close other tabs or browsers. One exception: if your work involves a portfolio, you can keep that open in a separate tab so you can easily bring it on screen to discuss it.
6. Log in 10 minutes before the scheduled interview time. Don't keep the interviewer waiting.
7. When the interviewer is speaking, you can watch them on screen. But when it's your turn to talk, make an effort to look directly into your camera. It might not feel as natural, but from the interviewer's point of view, it looks like you're making eye contact. If it helps, put a small toy, sticker, or a pair of googly eyes next to your webcam (really!). It can remind you where to look when you're speaking.
8. Virtual interviews can feel more monotonous than in-person meetings. The person on the other side of the screen isn't naturally feeling your energy, and you might be in the middle or at the end of a long line of calls in their day. To keep things lively, use body language, just as you would if you were interviewing in person. Sit up straight, nod and smile while you're listening, and gesture when you're speaking.
9. Make yourself memorable by taking the time to connect with the interviewer. Ask if they've conducted a lot of interviews today. Ask about an interesting item in the background. Mention something you learned about them in your research. For example, if the bookshelf behind them is filled with Red Sox memorabilia, you could say, "I see you're quite the baseball fan. How do you think Boston's chances look this year?" If your Google search told you they presented at a conference last month, you could say, "I saw you were one of the presenters at X conference. Do you do a lot of public speaking?" Candidates who took a genuine interest in engaging with their interviewer were much more likely to get the job in the Harvard Business Review's study.
10. If, despite your best intentions, someone enters the room while you're interviewing, apologize and ask for a moment. Mute your microphone, take care of the distraction and collect yourself before rejoining the call. If at any time, you become flustered or overwhelmed, it's OK to ask for a moment to gather your thoughts. Above all, stay calm.
Whew! You did it. Great job. Now there's just one thing left to do.
FOLLOWING UP AFTER A VIRTUAL INTERVIEW
Most job candidates make the mistake of never bothering to follow up and say thank you. Sending an email the day after your virtual interview is an easy way to stand out and make sure the interviewer remembers you.
If you spoke with more than one person, send a personalized message to each of them. In the email, mention something you talked about in the interview to jog their memory. It might be something you had in common, a challenge the business is facing, or a unique skill you bring to the table.
Here's a helpful format: in the first paragraph, thank the interviewer and identify the job title you interviewed for. In the second paragraph, refer to something you bonded over or a specific business challenge they mentioned. In your closing, invite them to reach out with any additional questions and say you're looking forward to hearing back from them.
The virtual interview format can take some getting used to. But at its core, it's not that different from preparing for a traditional in-person interview. You still want to make a good impression, highlight your potential, and find out if the job is a fit for you.
LET'S ROLL!
Our recruiters are experts at helping you find and land the job of your dreams. Explore our current job listings or connect with a recruiter to find your next opportunity.