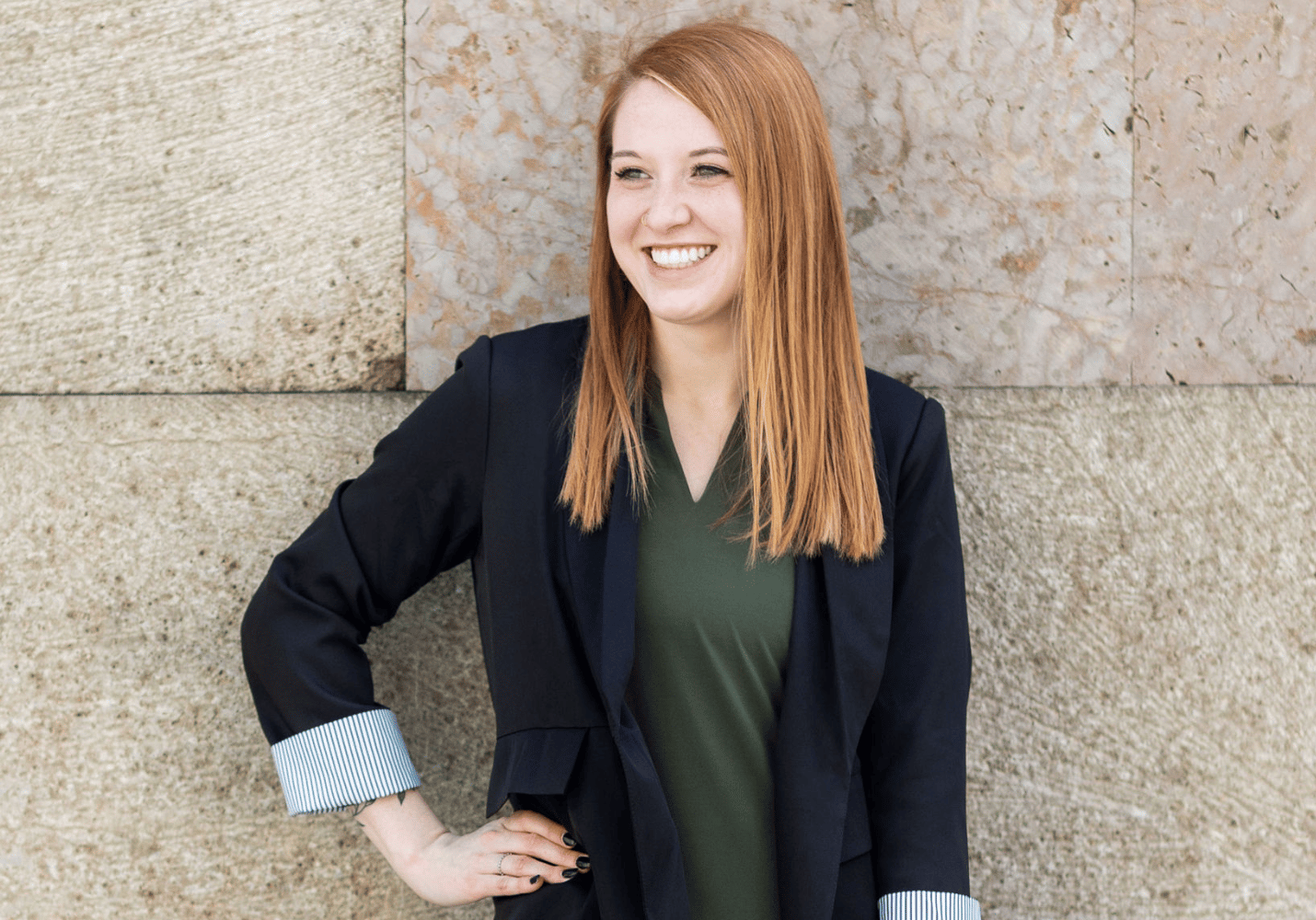 Hannah's favorite thing to do is problem solve and luckily she has multiple ways she gets to do this every day in her role as an Account Manager and Senior Recruiter at PEG. Whether it be working with clients to fill their hiring needs, finding a candidate a job they'll love, or figuring out how to fit an episode of Friends with her cat into her evening. Hannah answers our 20 questions that cover everything from inspiration to childhood celebrity crushes.
1. ARE YOU A MORNING PERSON OR A NIGHT OWL?
Truthfully, neither. I LOVE sleep. But I guess if I had to choose one – a morning person.
2. WHAT'S YOUR FAVORITE TIME OF DAY?
Evenings, especially in the fall! Perfect time to go for a walk, spend time with loved ones, and get things done after the workday is complete.
3. WHAT IS YOUR DREAM COUNTRY TO VISIT?
Scotland. My ancestry is strong there and I love all the trees/grass (I fully believe in the calming effects of greenery hence me having an entire ivy wall in my bedroom).
4. WHAT ARE THREE THINGS YOU CAN'T LIVE WITHOUT?
My cat, family, and fall days.
5. WHAT 3 PEOPLE LIVING OR DEAD WOULD YOU LIKE TO HAVE DINNER WITH?
Mother Teresa, Johnny Depp, and my Great Aunt. I call this "variety."
6. DO YOU LIKE THE WINDOW OR AISLE SEAT ON AN AIRPLANE?
The aisle for sure and if it's in an emergency row with extra legroom, BONUS.
7. WHAT'S YOUR CURRENT TV OBSESSION?
Friends and The Office, always.
8. HOW WOULD YOU DESCRIBE YOURSELF IN THREE WORDS?
Ambitious, responsible, resilient.
9. WHAT'S A BOOK THAT EVERYONE SHOULD READ?
Hmm. I do not think there is a one-size-fits-all here – it depends on where you are in life! I am currently reading Emotional Intelligence 2.0.
10. WHAT'S YOUR FAVORITE PIECE OF CLOTHING YOU OWN?
My ring with my cat's name engraved – YES, I am a bit of a crazy cat lady!
11. WHAT'S INSPIRING YOU IN LIFE RIGHT NOW?
Getting closer to completing my MBA. There have been some bumps in the road over the past year and I am encouraged to see I am nearing the end of this personal fulfillment journey.
12. WHAT'S THE BEST PIECE OF ADVICE YOU'VE RECEIVED?
If you don't take care of yourself first, you can't take care of others.
13. WHAT'S ONE PIECE OF ADVICE YOU WOULD GIVE YOUR TEENAGE SELF?
Slow down.
14. FAVORITE WAY TO RELAX OR DECOMPRESS?
Puzzles, coloring books, and sitting in my hammock (as long as it's not too hot).
15. MOUNTAIN OR BEACH VACATION?
Mountain. I'm very much a cold-weather person. A ski lodge vacation is on my bucket list but I can't promise I will be any good at the skiing part and not break anything! Maybe I should stick with drinking coffee by the fireplace inside and leave the slopes to the graceful.
16. WHO WAS YOUR CHILDHOOD CELEBRITY CRUSH?
Johnny Depp. I even did a book report for English class on his biography.
17. WHAT'S A SKILL YOU'RE WORKING ON MASTERING, OR A SKILL YOU'D LIKE TO LEARN?
Calligraphy. I have a creative mind but not much talent. This would be a way to create beautiful things without requiring much natural skill.
18. SONG YOU CAN LISTEN TO ON REPEAT?
None. I am lucky if I listen to an entire song before skipping to the next.
19. IF YOU COULD SWITCH LIVES WITH SOMEONE FOR A DAY, WHO WOULD IT BE?
My little sister. She is four. To have the energy and excitement she has for new things and life, in general, would be awesome. I love watching her grow and experience life!
20. WHAT'S YOUR FAVORITE QUOTE?
"I can and I will!"