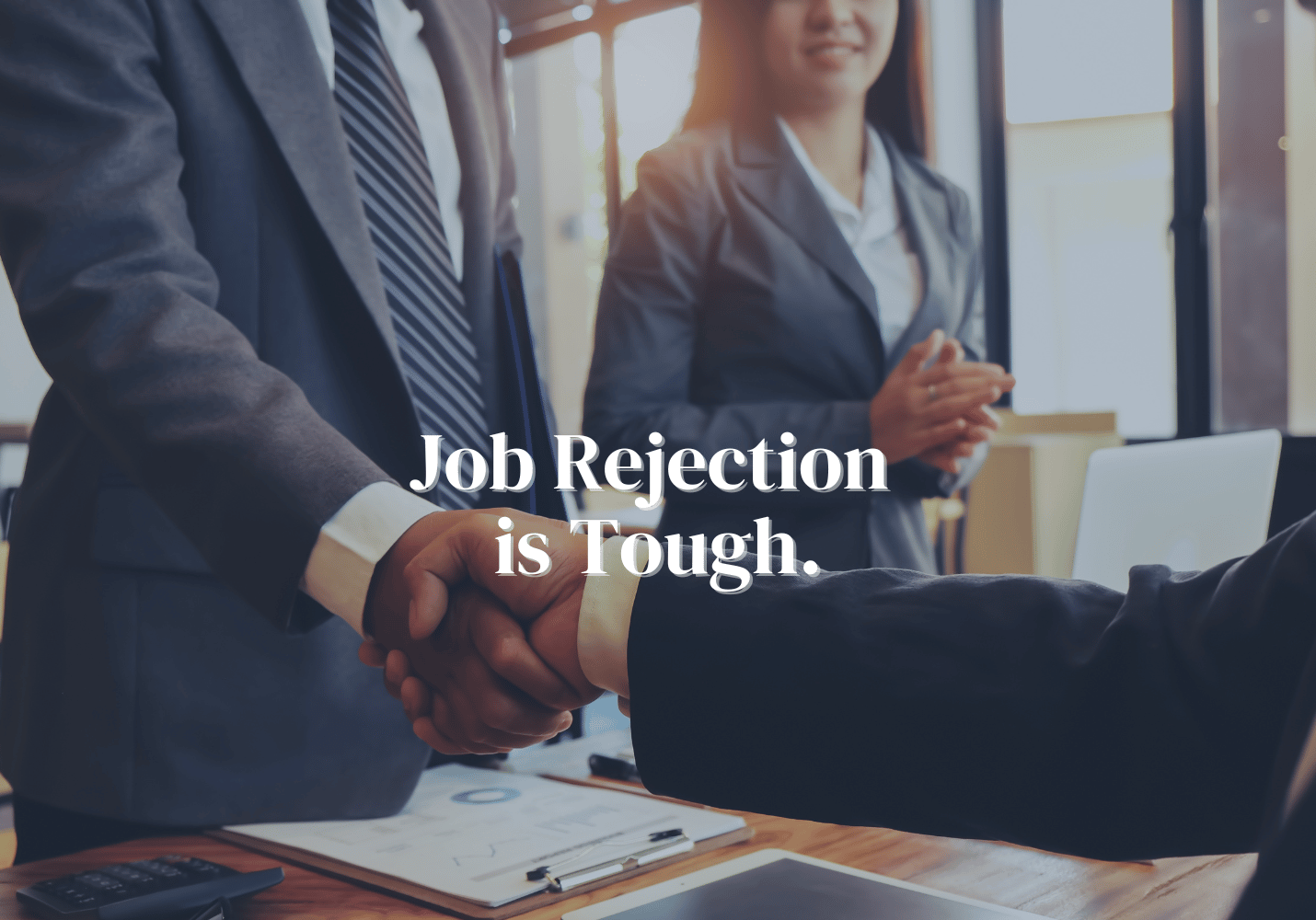 How to Ask for Feedback After an Interview Rejection
How to Ask for Feedback After an Interview Rejection
Getting rejected from a job you were really hoping for is the worst. You thought you rocked the interview, so the rejection especially stings and leaves you with questions. Why didn't I get the job? Was it a lack of qualifications? Did I present badly in the interview? Is there something I can do to have a better shot next time?
One of the biggest questions candidates have is: Is it ok to ask for feedback?
The answer: Yes!
Getting insight into your interview performance will help you know what you need to improve so you can crush it and land the next job. We know asking for feedback can be awkward and uncomfortable, so we're taking you through the process step by step, covering:
WHY YOU SHOULD ASK FOR FEEDBACK AFTER A JOB REJECTION
So you can learn and grow
Getting feedback is a great opportunity to learn from any interview mistakes you may have made as well as identify specific skills or experiences that you could add to your resume. They say knowledge is power, and receiving useful feedback increases your chances of success in the future.
To keep the door open for future opportunities
Asking for feedback shows that you're receptive to constructive criticism. It lets the interviewer know that you are motivated and willing to learn. So, when another role opens up, there's a stronger chance that you'll stand out in the employer's mind.
For closure
There's nothing worse than wondering, "What if I had only…" Asking for feedback gives you an opportunity to get useful information that will help you move on. Even if you aren't able to get any feedback, at least you know you gave it your best shot.
WHEN IS THE BEST TIME TO ASK FOR FEEDBACK
Before asking for feedback after a job rejection, take a beat to deal with the emotions you're feeling. It's okay to be sad and disappointed. These feelings are completely natural. Take some time to process what you're feeling and reach out to a trusted friend if you need to.
Next, mentally prepare yourself to ask for feedback. Resilience is an important skill to learn. Change and disappointment are part of life, and developing resilient thinking, especially after a setback, will go a long way in helping you navigate today's workplace (not to mention the world in general).
No matter how the rejection happens, it's important to follow up with your request for feedback as soon as possible. That way your interview will still be fresh in the person's mind. Plus, it will leave a good impression with your interviewer.
If you are rejected by email or voicemail
Follow up with a phone call within 24 hours during business hours. Even if you feel like an email would be easier, it's best to ask for feedback over the phone. Think of it as networking, making connections, and building a professional relationship. If you can't reach the interviewer by phone though, an email will do.
If you are rejected by phone
Ask for feedback while you still have them on the line, even if it feels awkward. Hiring managers are very busy, and you may not be able to get this kind of access later on.
If you got the interview through a staffing or recruiting agency
The situation is slightly different when you are working with a staffing and recruiting firm. Since they aren't the ones doing the interviewing, they don't have direct feedback to give. Sometimes all the agency gets from the hiring company is a yes or no. So, at the end of your interview, it's a good idea to ask the person interviewing you when they expect a decision will be made and what the next steps are. This way you can manage your expectations with a realistic timeline for when you could ask for feedback.
HOW TO ASK FOR FEEDBACK AFTER A JOB REJECTION
Should you email or call? In general, a phone call is the way to go, but it also may depend on how you've been communicating with the recruiter or hiring manager. If you've been speaking on the phone, they will be more likely to take your call. But, if your primary communication has been through email, you may have better luck getting a response that way.
Whether you're writing an email, making a phone call, or speaking to someone in real time, here are some basics to follow when asking for feedback after an interview rejection:
Thank the interviewer for their time.
Explain that you want to learn so you can improve.
Ask questions like, "Am I missing relevant skills or experience?" Or "Is there something I could do to present myself better as a candidate?"
Listen respectfully to their response and don't interrupt, and resist the temptation to debate or argue their answer.
End by thanking them again for their time and willingness to respond.
Tell them you appreciate their response and will use it to help with future interviews.
Examples of what to say
If you're asking for feedback through email
Start by thanking them for their response and tell them you understand and respect their decision.
It's okay to acknowledge your disappointment in not getting the job, but explain that you'd like to learn from this experience.
Ask for feedback with specific questions.
End your email by thanking the interviewer again. If you would like to know about any future positions, this would be the place to mention it.
Dear [Interviewer],
Thank you for letting me know about your decision. I understand I wasn't the ideal candidate for this role. While I'm disappointed not to be joining your team, I really enjoyed learning about [Company Name] and the work you do.
Would you be willing to offer a few suggestions on what I can work on moving forward? I'm always trying to learn and grow and would appreciate any feedback that could help me in the future.
Specifically, was there something lacking in my skills or experience? Was there anything I could have done differently to improve my interview?
Thank you again for your time and for the opportunity to interview with [Company Name]. If another suitable position opens up, please keep me in mind.
All the best,
[Your Name]
If you're following up with a phone call
Call during regular business hours.
Start by thanking the interviewer for letting you know their decision.
Explain that you'd like to learn from the experience.
Ask for specific examples of how you could improve.
Give them time to respond after each question.
Listen carefully and be prepared to take notes.
If you're interested in future positions that may be a better fit, let them know.
Thank them again before saying goodbye.
"Thank you for letting me know your decision. I understand I wasn't right for the position, but I was hoping you could give me some feedback that I could use to improve in future interviews.
Are there any skills or certifications missing from my resume that I should be working towards if I want to succeed in this industry?
Do you have any suggestions for how I could better present myself and my qualifications?
Thanks again. This feedback is really helpful. I appreciate you taking the time to talk to me, and please keep me in mind if a position opens up that you think would be a good fit."
If you're responding in real time
You may receive a job rejection and have an opportunity to ask for feedback on the spot.
First, take a deep breath to manage any disappointment you're feeling.
Thank the interviewer for letting you know the decision.
Explain you'd like to learn from the experience and ask if they would be willing to give you some feedback.
Ask specific questions.
Give them the space to answer and listen to what they say.
"Thank you for letting me know. I understand your decision. As someone who is always looking to improve, I'd like to ask for some feedback.
Specifically, was there anything I could've done differently to present myself better in the interview?
Do you have any suggestions on how I could make my cover letter or resume better?
I appreciate anything you can share that would help me grow in my career."
More examples of what to ask after a job rejection
Having this list of questions written down ahead of time can be very useful:
Can you tell me one or two things that I could have done differently that would improve my interview?
Did I seem qualified for this position based on the skills listed on my resume?
Do you have any feedback on my application, resume, or cover letter?
Were there any issues with my references?
Did my salary requirements or experience level not match this role?
DOS AND DON'TS WHEN ASKING FOR FEEDBACK AFTER A JOB REJECTION
Do:
Accept your rejection with professionalism.
Express appreciation.
Be brief.
Be specific when asking questions.
Be polite and gracious when listening to their response.
Keep an open mind and be receptive.
Leave the door open by saying something like, "If a different role opens up that you think I might be a better fit for, don't hesitate to contact me."
Stay positive and use the feedback to improve and grow.
Don't:
Don't act bitter or argumentative.
Don't try and get the employer to change their mind.
Don't act desperate or beg.
Don't push back on the feedback they give you.
Don't try and explain why they are wrong for not hiring you.
WHAT TO DO IF YOU DON'T RECEIVE ANY FEEDBACK AT ALL
It can be extremely frustrating to have no closure after a job rejection, but there are a lot of reasons why you may not get any feedback. Maybe you didn't have enough experience, maybe another candidate was better qualified, or maybe it was something completely out of your control. Try not to take the rejection personally. Sometimes it's just a matter of circumstances lining up and finding the right fit.
Many companies actually have a strict policy and legal reasons for not giving feedback. According to Talent Board's 2022 candidate experience benchmark research, nearly 71% of North American candidates never received feedback regarding why they didn't make it to the next round of the recruiting process. The reality is that sometimes you won't hear back from an employer even when you do ask for feedback.
Give it a week, and if you haven't heard anything by then, look ahead to the next opportunity…because there is always a next opportunity.
WHERE DO I GO FROM HERE?
So, what's next? Now is the time to arm yourself with everything you've learned and take the next steps toward finding your new role.
Create a plan
Write down any challenges and focus on ways to strengthen those areas where you could use improvement.
Reach out to someone in your network who can give you advice.
If you're a recent college graduate, reach out to the Career Planning department at your school to see if they offer practice interviews or resume reviews.
Find out what you can do to close the gap (training, certifications, personal development, etc.).
Research other job opportunities that interest you that may be a good fit.
Then just keep going until you get that dream job!