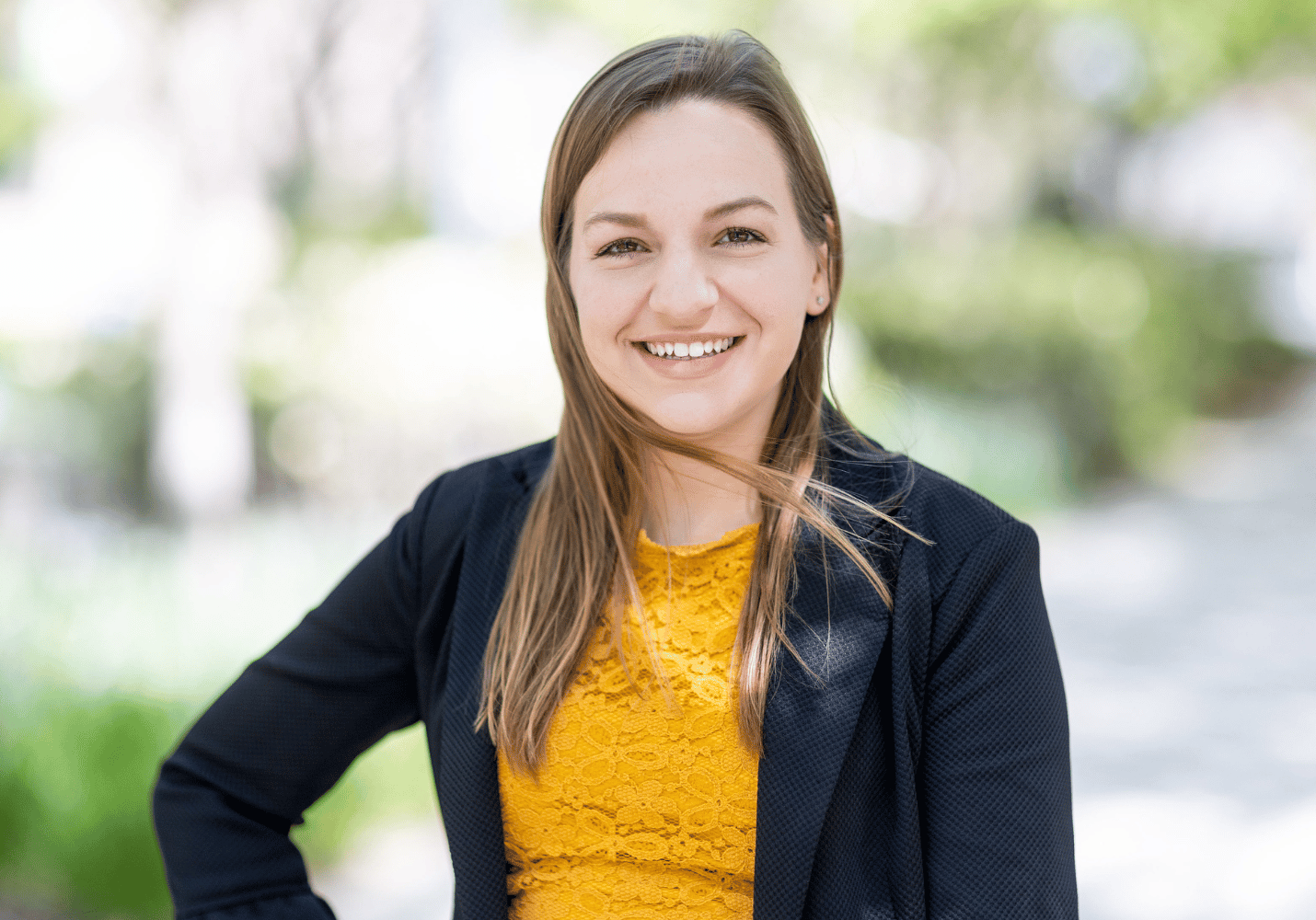 A driver of relationships and a natural connector, Briana is able to play match-maker with her candidates and clients by listening to the wants and needs of both parties. Bri answers our 20 questions that cover everything from inspiration to childhood celebrity crushes.
ARE YOU A MORNING PERSON OR A NIGHT OWL?
I'm definitely not a night person, it is rare that I'm awake after 9 pm. So I would have to say morning person, although I need at least a few sips of coffee before I'm ready to tackle anything.
WHAT'S YOUR FAVORITE TIME OF DAY?
I'm most energetic and productive during the later afternoon between 2-5, even on the weekends that is when I prefer to go do activities with my family.
WHAT IS YOUR DREAM COUNTRY TO VISIT?
I would love to go to Ireland! I regret not doing Mizzou's study abroad program when I was in college – I was seriously considering it but couldn't justify the cost at the time. Looking back on it now, I would have found a way to make it work.
WHAT ARE THREE THINGS YOU CAN'T LIVE WITHOUT?
My family, coffee, and chocolate.
WHAT 3 PEOPLE LIVING OR DEAD WOULD YOU LIKE TO HAVE DINNER WITH?
My grandma Haney who I never got to meet because she passed before I was born but that my family seems to have fond memories of.
My dad – we rarely spend time with just the two of us so I think it would be nice to have dinner together.
Brendan, my significant other. Now that we have a toddler, we don't go out and have dinner together just the two of us nearly as much as we used to. I think we need to implement more date nights in 2023. Yes. I've just decided that's a good idea.
DO YOU LIKE THE WINDOW OR AISLE SEAT ON AN AIRPLANE?
Window. I love looking out at the clouds and the world below me.
WHAT'S YOUR CURRENT TV OBSESSION?
Because we are in the holiday season I've been watching mostly holiday movies. My two must watch movies each December are Elf and National Lampoon's Christmas Vacation. But I'm also really loving the romantic holiday movies put out by Netflix as well – the one with Lindsay Lohan was really cute!
HOW WOULD YOU DESCRIBE YOURSELF IN THREE WORDS?
Goal-oriented, observant, and thoughtful
WHAT'S A BOOK THAT EVERYONE SHOULD READ?
Wild by Cheryl Strayed
WHAT'S YOUR FAVORITE PIECE OF CLOTHING YOU OWN?
It depends on the occasion. I have some pink tie-dye sweatpants from Arch Apparel that are so comfortable and my favorite loungewear clothes, but I've also recently invested in jeans/shorts from Madewell, and I don't think I'll be able to buy them from anywhere else now!
WHAT'S INSPIRING YOU IN LIFE RIGHT NOW?
My son. I know I need to be a role model to him and knowing that he is depending on me keeps me going.
WHAT'S THE PIECE OF ADVICE YOU'VE RECEIVED?
You are invaluable, so make sure that you stand up for yourself and what you want and believe in.
WHAT'S ONE PIECE OF ADVICE YOU WOULD GIVE YOUR TEENAGE SELF?
Stop worrying about being well-liked and do more of what you enjoy.
FAVORITE WAY TO RELAX OR DECOMPRESS?
I love a bubble bath and a glass of wine after a difficult day. And if that's not in the cards, then just taking a walk by myself around my neighborhood is helpful to clear my head too.
MOUNTAIN OR BEACH VACATION?
Beach, although I haven't experienced the mountains yet so I could love that too. I tend to prefer warm weather over cold weather, though.
WHO WAS YOUR CHILDHOOD CELEBRITY CRUSH?
Chad Michael Murray
WHAT'S A SKILL YOU'RE WORKING ON MASTERING, OR A SKILL YOU'D LIKE TO LEARN?
I would love to be able to just cook a really good meal without having to follow a recipe.
SONG YOU CAN LISTEN TO ON REPEAT?
I really like variety, so I would have a hard time picking just one song. Lately with holiday music I've been loving the John Legend version of Baby It's Cold Outside.
IF YOU COULD SWITCH LIVES WITH SOMEONE FOR A DAY, WHO WOULD IT BE?
My son. I think it would help me be more patient and understanding to truly remember what it is like to be a toddler.
WHAT'S YOUR FAVORITE QUOTE?
"Tell me, what is it you plan to do with your one wild and precious life?" – Mary Oliver