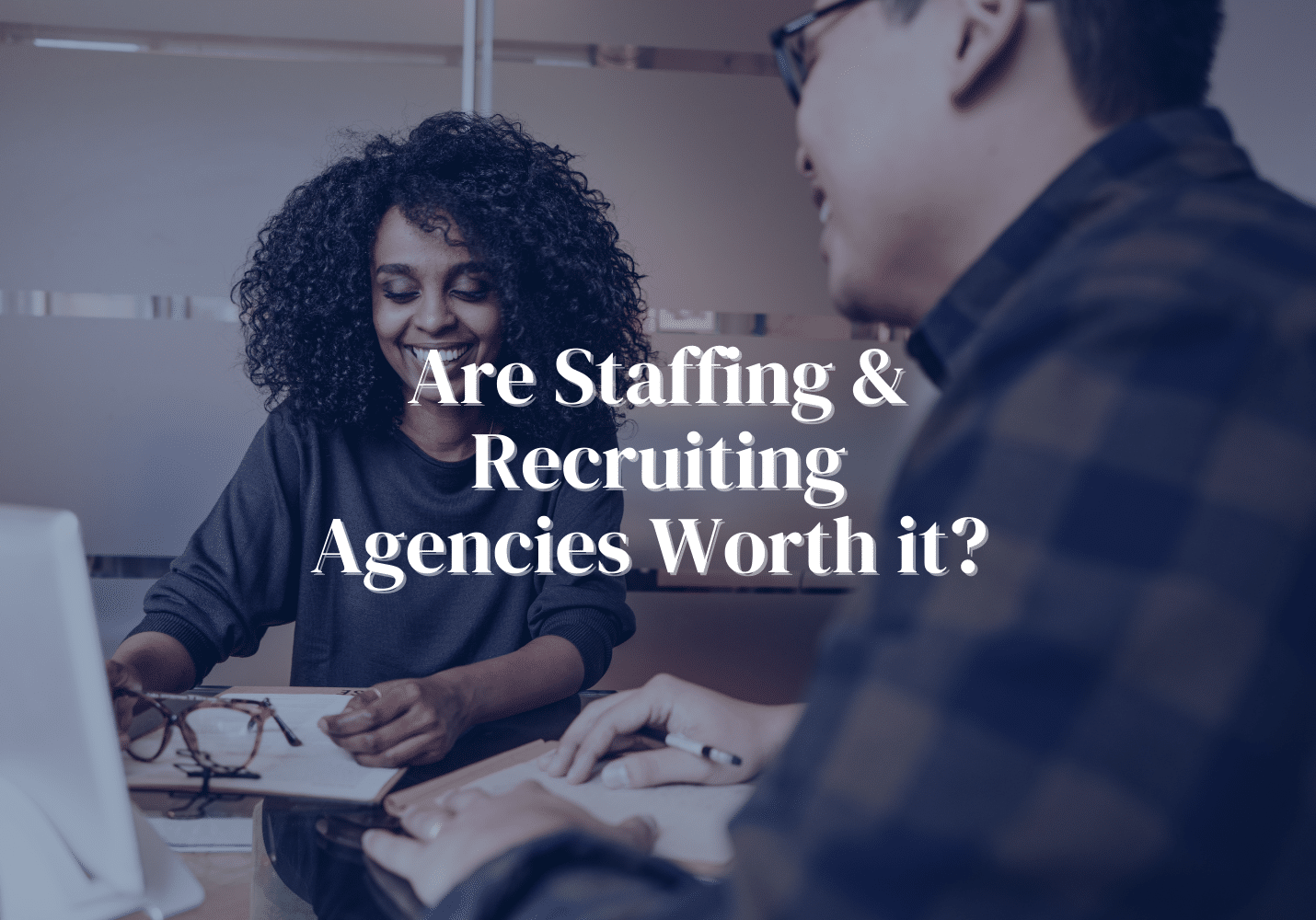 How to Know if a Staffing Agency Can Help You Recruit Employees
How to Know if a Staffing Agency Can Help You Recruit Employees
Hiring can be a huge drain on company resources. When you add up the cost of recruitment, the time spent on resume reviews and interviews, the lost productivity of vacant roles, the overtime employees put in to pick up the slack, and the cost of onboarding and training, you end up with a number that leaves most execs reaching for the aspirin.
In 2021, almost 70 percent of employers struggled to find the right person to fill a role. In another survey, more than half of businesses admitted a rushed process led to bad hires – which ultimately cost even more.
But how can you take your time finding the best candidates when time is the last thing you have to spare? That's why companies turn to staffing agencies. Agencies cut the time, risk, and headaches involved in hiring.
Here's how staffing agencies help businesses work more efficiently.
WHY USE A STAFFING AGENCY?
Filling vacant roles takes time and money. There's not a business on the planet that has those to spare. At best, rushing the process leads to high turnover (which is also expensive). At worst, it leads to hiring someone who can cause real damage to the company.
Staffing agencies lower costs, give you access to more candidates, and reduce the risk of hiring the wrong person.
PROS OF USING A STAFFING AGENCY
Lower costs. On average, it takes up to six weeks to fill a position. That's up to 42 days of lost productivity. During that time, employees might work overtime or burn out covering tasks that aren't their job. Hiring managers spend hours scanning resumes and interviewing applicants who don't make the cut. Staffing agencies can shorten that time. Agencies recruit from a deeper talent pool and have more time available to read resumes and conduct interviews. The only applicants the hiring manager spends any time with have already been screened and found qualified.
Deeper talent pool. Staffing agencies spend years building up their talent network. For a company, "recruitment" might mean posting the vacancy on job boards and mentioning it to your LinkedIn network. Agencies, on the other hand, may already have a shortlist of people looking for just the kind of position you're offering. Even if they don't have a candidate right in their back pocket, these networks help agencies to find qualified applicants fast – especially if the role requires a specialized skill or background.
Reduced risk. Hiring the wrong person can be a disaster. All that time and money spent recruiting, onboarding, and training is wasted. Agencies cut this risk by hiring fast without rushing the process.
You can reduce your risk even further by making the role contract-to-hire. This allows you to take your new employee for a trial run and see how they perform before making a permanent job offer. During the contract period, the agency covers the employee's payroll taxes, withholding, and benefits, further reducing your costs. At the end of the contract, you can renew it, hire the worker outright, or let them go.
TYPES OF ROLES A STAFFING AGENCY CAN FILL
Depending on your needs, a staffing agency can help you beef up your workforce for the short term or build it up for the long haul.
Contract positions. As costly as recruiting is, it's an even bigger hassle when you only need to fill jobs for a short time. Maybe you have an employee taking maternity leave. Maybe the busy season is looming. Maybe you just need help getting a new program off the ground. A staffing agency provides high-quality temporary workers that let you scale your workforce up or down as needed.
Contract-to-hire. If you're nervous about hiring the wrong person, contract-to-hire helps you breathe easier. You'll pay the staffing agency for the duration of the contract. The worker will be on the agency's payroll, and they'll handle benefits, taxes, and withholding. The contract period serves as a trial run to let you see how the worker fits into the role and your company before you commit to hiring them permanently.
Direct hire. Don't discount the value a staffing agency brings in helping you fill permanent positions. The agency's talent network means they can find qualified candidates with specialized skills fast. And by letting the agency trim the applicant list down to just the most qualified, you don't waste your time reading resumes and interviewing people who are a bad fit for the position.
CONS OF USING A STAFFING AGENCY
Staffing agencies can take some of the pain out of the hiring process, but they're not a cure for all ills. There are tradeoffs.
Reduced control. One of the biggest advantages to using a staffing agency is that only the most qualified applicants make it to your desk. That means you don't see every application. To save a lot of time, you give up a little control over which applicants move on to the interview stage.
Shortened training timetable. If you hire employees on a contract or temporary basis, they'll have to get up to speed fast. Contracts have an end date, so there is a limit to how much time the new employee can spend on training.
Outsider view. No outside agency can know your business quite as well as you do – but we can get darn close. At PEG, we dig deep to understand your needs, your goals, and your company culture. We've gotten so good at making employee-employer matches over the decades we back them up with a 100% client satisfaction guarantee.
SHOULD YOUR BUSINESS USE A STAFFING AGENCY?
Here are some questions to help you decide if a staffing agency can help you.
Is there urgency to fill a role?

Yes

Hire a staffing agency. Their systems help them find a qualified candidate faster than you'll find on your own

No

You can take your time personally reviewing candidates. However, using an agency will let you spend that time on more fun (or valuable) pursuits.
Do you have the internal resources to conduct a thorough search?

Yes

Your internal recruiters are well suited to finding you the right candidate.

No

Hire a staffing agency. You'll find more candidates in less time without eating into your staff's productivity.
How involved do you want to be in candidate screening?

Hands On


If you take a personal interest in every application, you may want to keep hiring internal. If you'd like to review most of the applicants but don't want to mess with recruiting them, hire an agency. Ask them to involve you in the process as early as you'd like.

Hands Off


Hire an agency and leave the sifting and sorting of applications to them. You'll get only the brightest and most promising candidates to choose from.
Do you struggle to find enough good candidates to fill your open positions?

Yes

Hire a staffing agency. They have access to a deeper talent pool and can connect you to people with hard-to-find backgrounds.

No

If you have an abundance of good applicants to every open job, you may want to bring in an agency anyway. They filter out bad-fit candidates so you can focus on the most qualified.
SO, ARE STAFFING AGENCIES WORTH IT?
To decide if the fee is worth the investment, you have to calculate the costs of recruiting and screening candidates yourself. And don't forget costs that are hard to nail down – like wasted time and stressed-out managers.
Here's a summary of the most valuable ways staffing agencies help companies.
Allow hiring managers to make better use of their time.
Provide access to a deep candidate pool, including candidates with specialized skills or backgrounds.
Provide skilled interviewers who know how to weed out low-quality applicants early on.
Fill open positions faster.
Reduce the risk of making bad hires.
HOW TO GET STARTED WITH A STAFFING AGENCY
Decided a staffing agency sounds like a good idea? You're ready to see it in action. Here's how the process works.
Reach out. We'll learn all we can about your company and its needs so we can find you the very best candidates.
Paperwork is a necessary evil, but don't worry – we'll take care of it. You'll be assigned a dedicated account manager to be your single point of contact. They'll know what's going on with your search at all times.
We start recruiting. We'll create the job description for your open role, advertise it, and personally send it to qualified people in our network.
As applications come in, we'll vet them against the job description and what we know about your company. We'll interview and check references of the best candidates. Then we'll pass the best of the best on to you.
Make a hire. We'll take care of the paperwork (again!). If it's a contract position, the employee will come onto our payroll and we'll handle all back-end management (like workers' comp and payroll taxes) until the contract ends or you ask them to join your team permanently.
WE'VE GOT YOUR BACK
To provide the best possible service, your staffing agency has to act as your partner. We don't throw candidates at you like throwing spaghetti at the wall to see what sticks. We look for ways to exceed your expectations every day.
If what you need isn't in our wheelhouse, we'll tell you so and try to find you someone who can help. Want to see what we can do for you? Get in touch.