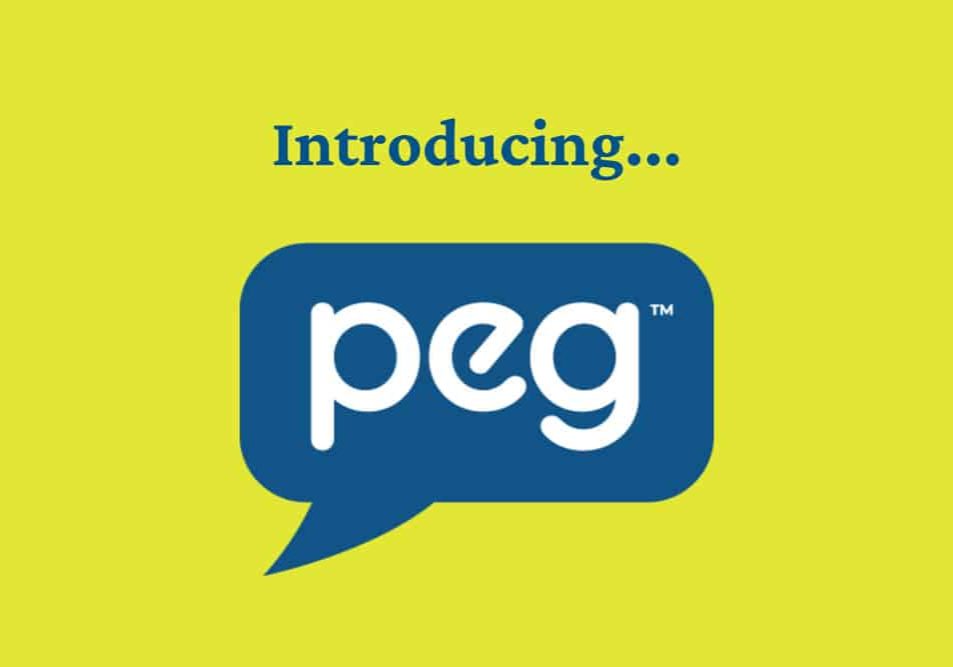 PEG's Makeover: Our Rebrand, Our Story, and Our Position in the Staffing & Recruiting Industry
PEG's Makeover: Our Rebrand, Our Story, and Our Position in the Staffing & Recruiting Industry
Hi, there. We're PEG. We're so glad you're here!
It's official! After nearly 40 years as "Professional Employment Group", we've changed our name to "PEG". It's simpler, easier to remember, and what everyone was calling us anyway so why not embrace it? 
That's not all that's changed either. Over the past few months we've overhauled our entire infrastructure and brand to better meet the needs of today's modern workforce. We've upped our training and technology game, and completely revamped our PEG website, email newsletter, and social media channels.
Don't worry though! We're the same trusted St. Louis-based staffing and recruiting agency you've known for almost 40 years, just with a new name, upgraded tools, a fresh look, and a new lease on life (and a new office lease too – you're welcome to see our new digs!).
So, why the changes? 
As employees expect and demand more from the companies they work for, employers are working harder than ever to recruit top talent and retain current team members. But, the competition for top talent is fierce.
We knew it was time to cast off the standard issued staffing and recruiting pantsuit and finally let our true personality and distinctive position in the industry shine. With our rebrand, tech overhaul, and additional company wide training, we're more ready than ever to consistently deliver great opportunities for job seekers and superior talent for clients. 
How has our brand changed?
Updating our company name was just the first step. Next, we developed a whole new look and feel with new logos, refreshing colors and a new website. We partnered with top-notch marketing and design experts to help guide us through the process and made sure everything was just right. We took our time, stripped away the corporate-y navy blues and grays (yuck!), and we're feeling very at home in our new look.
Drumroll please…. our logo reflects our personality – modern, unique and always approachable.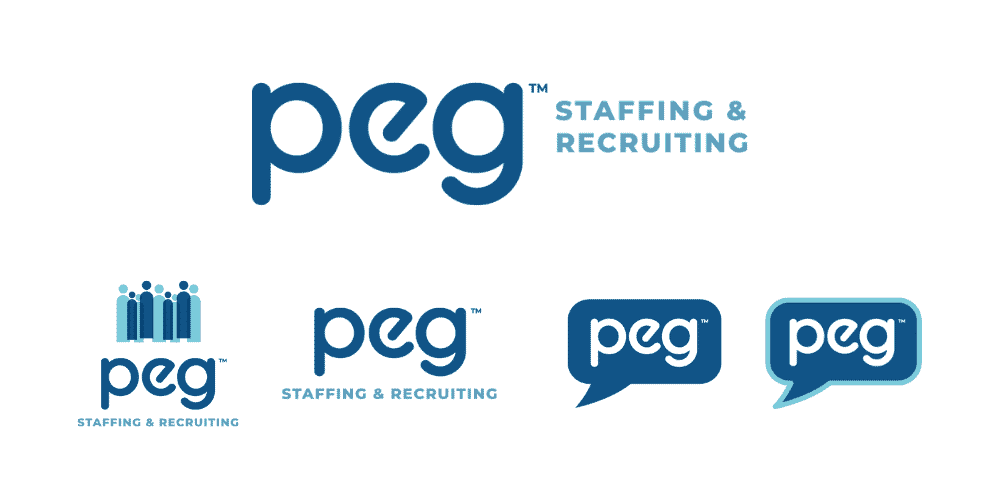 PEG color system
We didn't just pick pretty colors from a hat to represent PEG, our color palette choice goes a lot deeper. We wanted our colors to reflect our recruiting and staffing journey. Our primary and secondary colors illustrate the range of people we interact with throughout the day. Each brand color is unique, while successfully complementing each other for a cohesive and refreshing look. See what we did there? 😉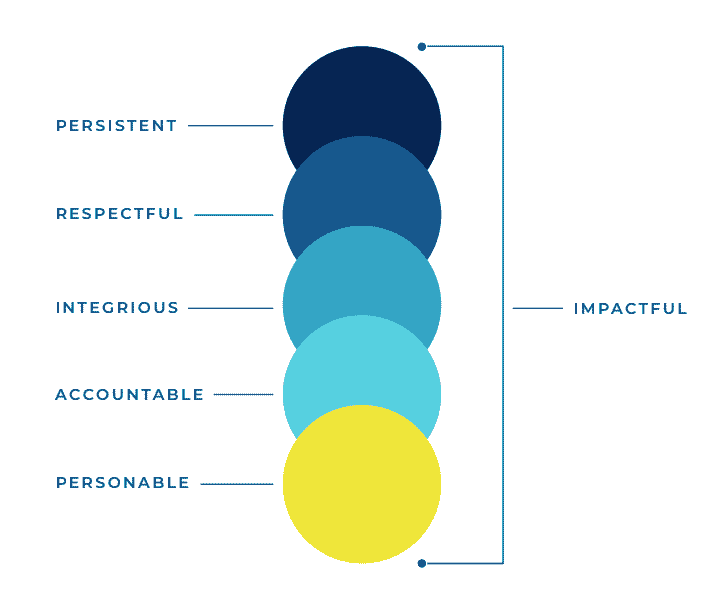 PEG website
Websites are everything, and they can make or break a first impression. To meet the needs of a mobile world, we've completely reimagined, reorganized, and rebuilt our website and its content from top to bottom. Our new site clearly and quickly gives you the PEG lowdown on what we do, who we are, and how you can get in touch with us. Plus, it's easier to navigate!
Here's some of the new design elements you may spot across our new site.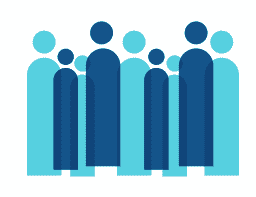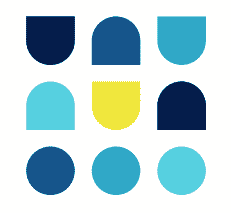 What hasn't changed?

While we have a fresh new look, the most important parts – our people and commitment to making a positive impact in the lives of those we serve – have and will remain the same.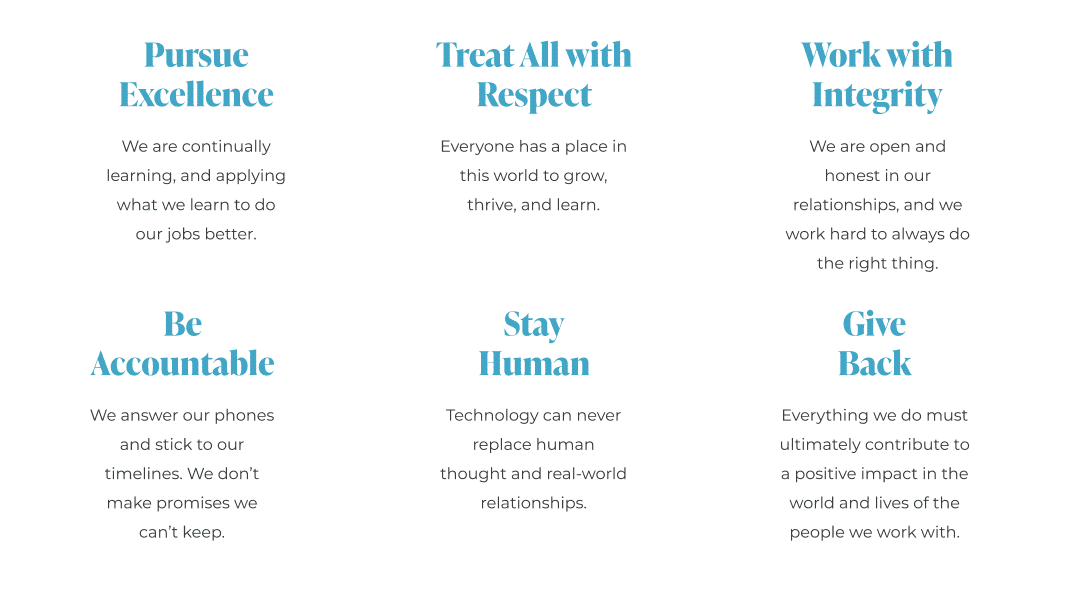 So, what's next? How can I get to know you?
Now that you're a little more familiar with PEG, we'd love to get to know you better, too. Are you looking for a new job or are you searching for new talent? What's keeping you up at night? We're ready to get started when you are – and we can't wait to meet you.
Contact us online or call 314-275-2000, and let's talk about it!