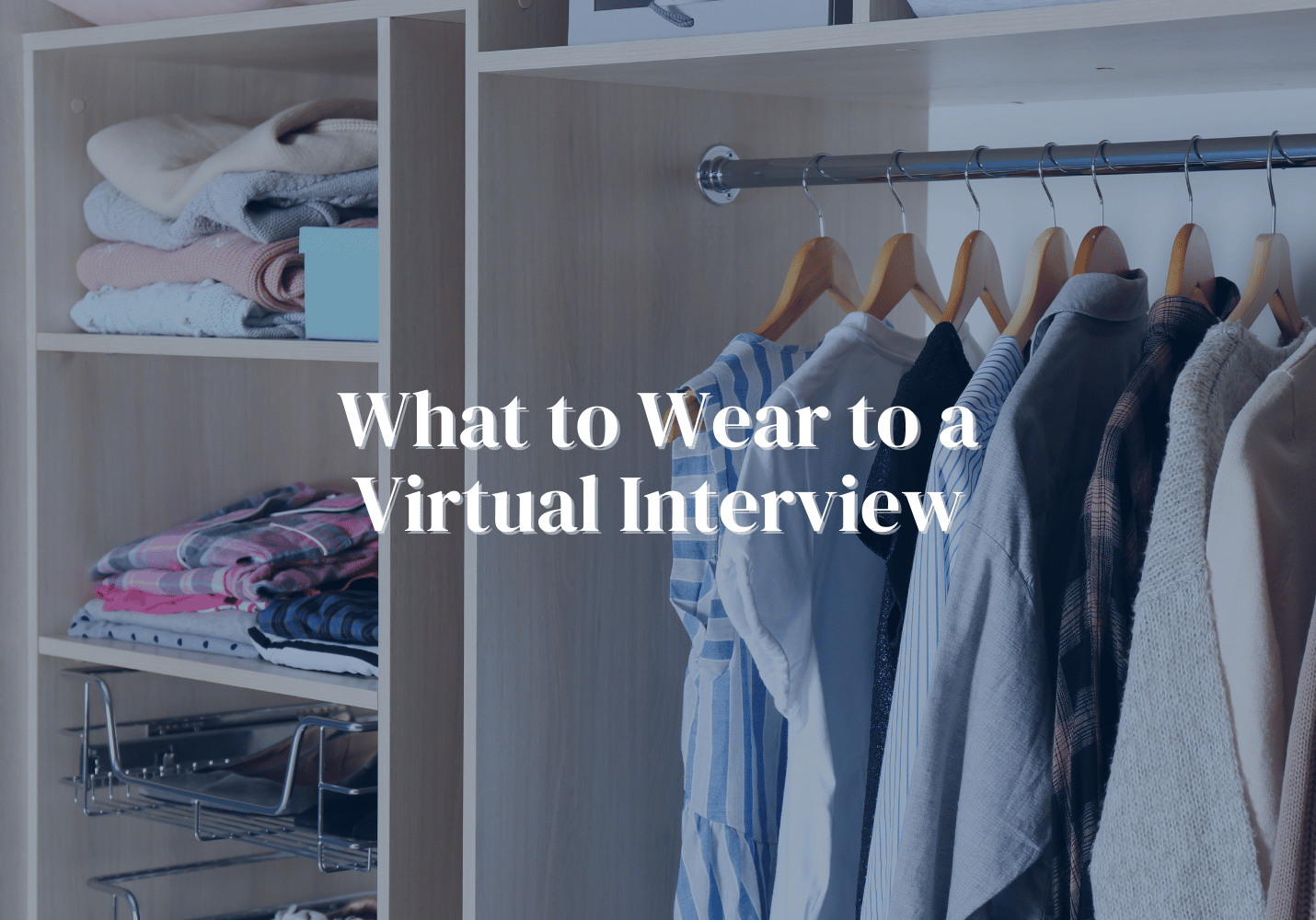 What to Wear to a Virtual Interview
What to Wear to a Virtual Interview
For as long as job interviews have existed, job seekers have stressed over how to dress for them. And with more than 80 percent of employers now doing first-round interviews online, there's a new element in the mix.
Virtual interview attire has to work harder than in-person attire because it needs to create that same strong impression despite technological distractions getting in the way.
DRESS FOR SUCCESS: WHETHER YOU INTERVIEW IN-PERSON OR ONLINE
Sitting in front of a computer in your bedroom feels a lot less formal than sitting in an office you hope to work in. Don't let that lull you into a casual approach to the way you look.
When you log in to your virtual interview, your appearance sends a message about your judgment before you ever say a word. Dressing appropriately isn't just about looking professional. It's about showing the interviewer you understand that norms exist and that you respect the standards of the workplace.
Dressing for a virtual interview also sends a subliminal message to yourself. Sure, the interviewer will probably only see you from the waist up. But putting on slacks and shoes under your suit jacket instead of sweatpants and bunny slippers signals to your brain that it's time for work. When you're dressed for success from head to toe, you feel more confident, focused, and professional – and it shows.
WHAT TO WEAR TO A VIRTUAL INTERVIEW
Looking for some high-level tips? Here are the important things to keep in mind:
Some colors and patterns that look great in person are distracting, annoying, or downright blinding on camera

Dress a little nicer for the interview than you would for the workday

Keep makeup and accessories light – they should enhance your appearance, not dominate it

You can wear your hair any way you like it as long as it's clean, tidy, and out of your face. Do a test run on camera to see how your outfit looks under the lights and against the backdrop you have available
Read on for more detailed advice about how to dress for your interview.
TABLE OF CONTENTS
THE BEST COLORS TO WEAR ON CAMERA
Color matters more in a virtual interview than in an in-person meeting because some colors that work in person don't translate well onscreen. The right colors flatter your skin, pop against your background, and don't distract from what you're saying.
Neutrals – Neutral tones are always a safe bet. They're generally flattering and don't compete with your words for attention. Shades of gray, beige, light blue, and off-white look best on camera.
Stay away from true black when you're on camera. It can drain your complexion and emphasize harsh shadows. Deep brown, charcoal gray, or navy blue are safer choices if you want to go dark.
At the other end of the scale, opt for cream or beige tones over bright white. White might look fresh and crisp in person, but on a computer monitor it can be blinding.
Jewel Tones – Choose a color that suits your skin tone, then go for a saturated shade. Rich shades of teal, purple, burgundy, sapphire blue, or coral pop onscreen. Avoid neon shades – what's bright in person is brighter onscreen, and your interviewer shouldn't need sunglasses to look at you!
The color of your background will also affect how you appear onscreen. Wear a color that contrasts – it shouldn't be hard to see where you end and the wall begins. Colors look more vibrant against a light background and more muted if your background is dark.
Tip: A light, neutral backdrop is the least distracting in a job interview. If no place in your home fits the bill, you can fake it by tacking up a white sheet or curtain behind you or creating a DIY privacy screen.
SHOULD YOU DRESS UP FOR A VIRTUAL INTERVIEW?
Let's be honest – it can feel weird putting on a suit to sit at your kitchen table. But remember, your physical location doesn't matter. The impression you make does.
As a rule of thumb, you should dress a half-step higher than the company's dress code in your interview. That means if employees dress in T-shirts, you should interview in a collared shirt or blouse. If the office style is slacks and button-ups, wear a skirt and blazer or a jacket and tie. Once you have the job you can relax your style to match the office norm. At this stage, you're looking to impress.
So how do you know what the office dress code looks like? Do your homework. You can ask when you set up the interview. Or you can research the company online. Study team photos on the website and, especially, social media accounts to get a feel for what people wear to work.
When choosing your outfit, make sure you opt for comfortable pieces. No matter how good you look, if you're distracted by an itchy collar or ill-fitting sleeves, you won't be able to present yourself at your best.
GO EASY ON ACCESSORIES
Accessories can add a lot of pizzazz to an outfit, but they can be really distracting onscreen.
If a bold scarf or necktie is your style, balance it by keeping the rest of your outfit neutral. Keep jewelry minimal – like a single necklace or bracelet and small earrings.
If you wear glasses, do a trial run of your lighting before the interview. Set up your lights and camera in the location you plan to do the interview. If your glasses reflect a glare, adjust the angle of your lights or monitor so your eyes will be visible on the big day.
HOW TO STYLE YOUR HAIR FOR A VIRTUAL INTERVIEW
The best hairstyle for a job interview makes you feel comfortable, confident, and authentic. This is not the time to try out a brand-new style you've never worn before.
Lean into your hair's natural texture. You don't have to straighten your natural curls or tease volume into sleek strands. Just make sure your hair is clean and tidily combed, and that frizz and flyaways are under control.
If you wear your hair long, consider pulling it back to remove the temptation to play with it while you're talking. You want the interviewer to focus on what you're saying, not on the way you keep twirling your hair or pushing it out of your face.
If you wear a mustache or beard, take the time to style your facial hair before the interview. Use grooming scissors to clean up the shape and tame any stray hairs. Comb your facial hair and consider using beard oil or beard balm to keep it neat.
MAKEUP TIPS TO LOOK PROFESSIONAL ONSCREEN
If you choose to wear makeup for your interview, a  light touch is key to keeping it professional. Don't let the lights and camera of a virtual interview lead you astray. This isn't a red-carpet photo shoot, and you don't need to layer it on.
Base – Start by prepping your skin with an appropriate moisturizer to prevent your complexion from looking dull. Use a sheer foundation to even out redness and a concealer to eliminate undereye circles. Use a mattifying primer or loose powder on your T-zone to keep shine away.
Skip the contour, which can come across on camera as muddy or overdone.
Blush – The bright lights so important to looking good on Zoom have the sad side effect of washing you out. Combat that with vibrant pink blush, which works for all skin tones to create a fresh, healthy glow.
Eyes – Brightening eyedrops will keep your eyes from looking tired and red.
When applying makeup, avoid a smoky eye or heavy eyeliner – they look harsh onscreen. Brush a neutral, reflective eyeshadow across the lid. If you want a little more depth, brush a natural-colored shadow along the crease, following your natural eye shape.
Keep eyeliner thin and tight to your lashline or skip it altogether. Curl your lashes and coat with mascara to look bright-eyed and wide awake.
Lips – If you're dying to add a pop of color to this neutral face, this is where you can do it. Or you can keep the neutral theme going by choosing a soft, natural-looking color.
Stick with traditional lipstick shades like pink or red. And stay away from matte formulas, opting instead for a satin or glossy finish.
WHAT NOT TO WEAR TO A VIRTUAL INTERVIEW
As important as it is to know what to wear to make a good impression, it's also important to know what to avoid.
Bright colors

– Skip bright red, bright white, or neon colors. They leap off the screen – and not in a good way.

Patterns

– Large patterns and prints are distracting. Small patterns and prints – especially herringbone, dots, and stripes – appear to dance around the screen, creating optical illusions (and probably headaches for your interviewer).

Flashy or dangling jewelry

– Reflective jewelry can create irritating flashes of light on your camera. A necklace that rubs against your microphone, jangly earrings, and clinking bangle bracelets create disruptive background noise.

Shiny or sparkly fabrics

– Fabric that picks up and reflects light tends to create an unflattering effect on camera every time you move.

Revealing styles

– Refrain from showing a lot of skin. Even when interviewing for a job with a casual dress code, keep cleavage and shoulders covered.

Clothes that don't fit

– Clothes that are too tight look provocative. Clothes that are too baggy look sloppy. If your go-to interview clothes don't fit anymore, have them tailored or replace them.

Stained, dirty, or disheveled clothing

– It should go without saying, but we're going to say it anyway. The clothes you wear to your interview, virtual or in-person, should at the very least be clean and free of stains, tears, or wrinkles.
VIRTUAL INTERVIEW OUTFIT IDEAS
Struggling to imagine what these tips look like in practice? Here are a few sample outfits.
VIRTUAL INTERVIEW OUTFITS FOR WOMEN
Casual
Solid, jewel-tone top that covers shoulders and cleavage

Dark-wash jeans

Statement necklace

Stud earrings
Business casual
Button-down shirt in a neutral color

Solid-color pullover or cardigan sweater in a neutral or jewel tone

Tailored slacks in a neutral color

Stud or small hoop earrings
Business professional
Classic blouse in off-white or beige

Structured suit jacket in a neutral color

Tailored trousers or knee-length suit skirt

Mid-length chain necklace with a small pendant

Stud or small hoop earrings
VIRTUAL INTERVIEW OUTFITS FOR MEN
Casual
Button-down shirt in a flattering solid color (tucked in)

Dark-wash jeans

Leather belt

Watch
Business casual
Button-down shirt in a flattering solid color (tucked in)

Sport coat

Slacks

Leather belt

Watch
Business professional
Suit in a solid, neutral color

Classic dress shirt

Necktie – either a solid color or simple two- to three-color design

Leather belt

Watch
MAKE A STRONG FIRST IMPRESSION
The way you present yourself on camera sends subtle cues that shape how the interviewer perceives you. You want your appearance to say you are confident, competent, and professional. What you wear shouldn't call attention to itself – it should make it easy for the interviewer to concentrate on what you say.
Wear clothes that make you feel comfortable and confident

Make sure clothes, hair, and background are clean, tidy, and presentable

Wear solid colors that flatter your complexion and show up well on camera

Dress a little more formally than the company dress code requires

Avoid clothes or accessories that may come across as distracting
Once you've chosen your outfit, review this guide on how to crush your virtual interview.
LET'S ROLL!